Pious Hearts Muslim Singles Events
What is a Pious Hearts Singles Social Events?
Are you tired of your parents saying you're getting old?
Do your friends try to hook you up with someone but it turns out that that person is not for you?
Let's face it, you're single and you want to get MARRIED!
We understand the challenges single Muslims face in meeting potential marriage prospects due to busy work schedules, religious constraints and general lack of platforms to meet like-minded Muslims in appropriate settings.
Pious Hearts has changed the Muslim Matchmaking scene by attracting singles who are serious about finding their Naseeb.
Don't worry, unlike other matrimonial events, this certainly won't be boring or awkward.
Pious Hearts events always have this unique environment that's filled with laughter, interactive games, funny hosts, great food, mingling, and of course lots of opportunities to find a match.
Meet new people and make meaningful connections in a relaxed environment personalized for your comfort because meeting that special one shouldn't be anything but a natural and joyous experience.
What Do Pious Hearts Event Attendees Have to Say?
"It was well organized and it felt that they had a genuine place to present opportunities and to allow people to mingle in a stress-free environment."
"The "icebreakers" were really well-put together in terms of kick-starting the right conversations among people in the room."
"There were tons of activities to understand the people in the room such as interactive games, riddles, and other activities to evaluate the personalities of the people around them."
"Seeing we are children of immigrants, we tend to have such a diverse background and largely work within so many different networks and backgrounds; it becomes very difficult to create a connection. You could be the wealthiest person out there but we largely need to tap and see other people around us want a deep purpose; being married plays such a pivotal role in a Muslim's life in a much more spiritual way than meeting people online; this event was really important and events like these have such a deep need in our communities."
Click here to read more about our latest event with MAS. 
For testimonials from couples who have used our service, click here. 
Upcoming Events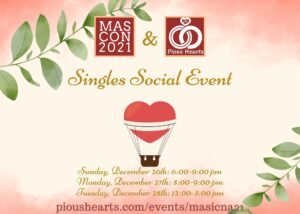 McCormick Place, 2301 S King Dr, Chicago, IL 60616
No event found!
---
Past Events