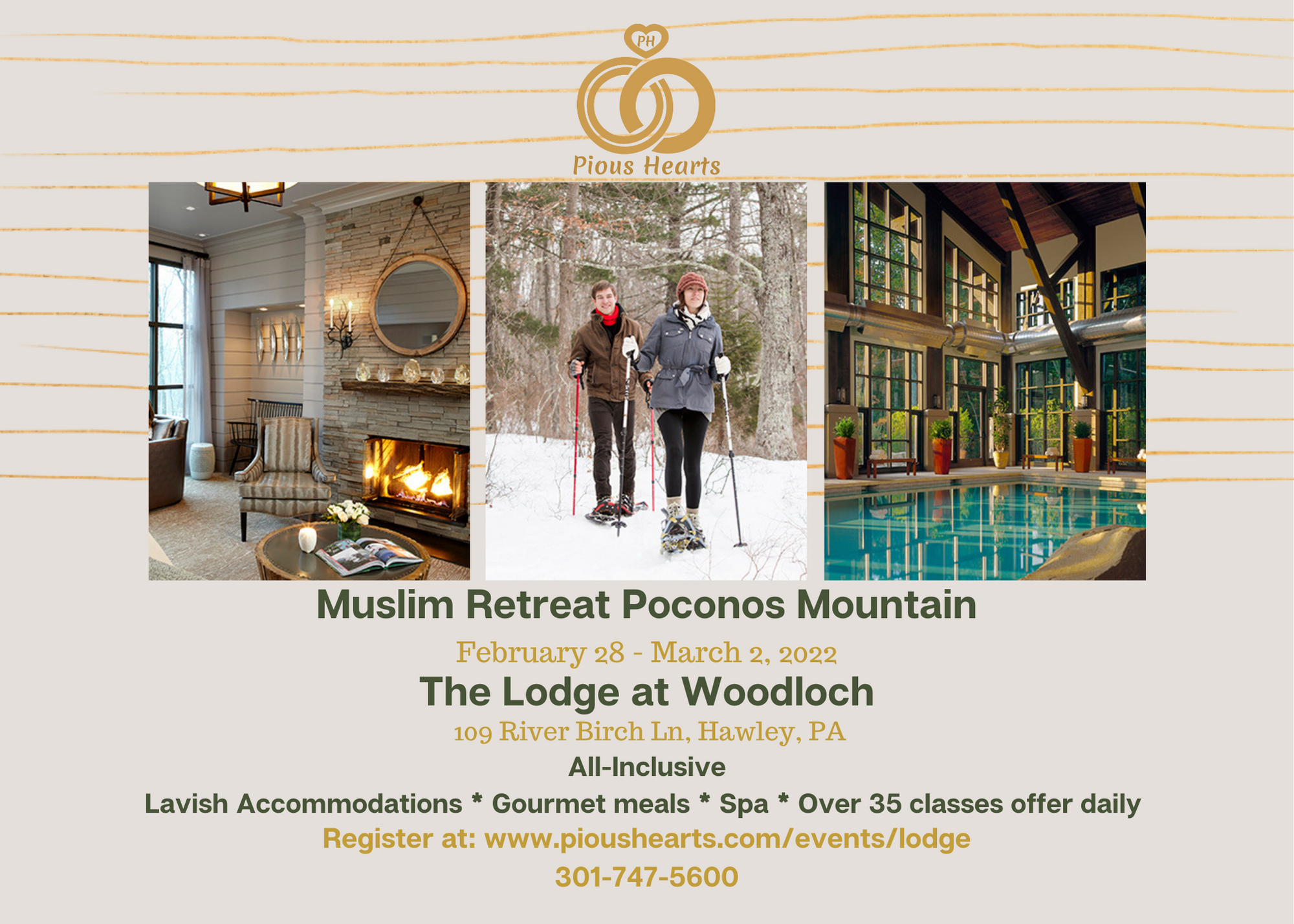 Muslim Retreat- The Lodge at Woodloch
Pious Hearts is pleased to host a Muslim Retreat at The Lodge at Woodloch on Monday, February 28 – Wednesday, March 2nd, 2022. A Poconos Mountain resort for individuals, couples, and families who are looking for a meaningful escape that provides an uplifting and holistic experience- spiritually, physically, and socially.
If you enjoy meeting people in person and being around like-minded individuals in a fun environment then this event is for you!
During your stay, you can expect a lot!!
Lavish accommodations
• 3 artfully-crafted gourmet meals per night of stay
• A 40,000 square foot spa
• Room to roam on over 500 acres
• Over 35 classes per day to explore your passions
such as yoga, painting, cooking classes, and much more!
Register Now
To attend our Muslim retreat, you must complete the registration form, by answering some questions about who you are and your contact information. Our decision will be based on those who applied first since there are limited spots and we will only start selecting once we get enough registrants for Pious Hearts to host this event. Only when our team picks you to be a guest at our Muslim retreat, will your credit/debit card on file automatically be charged. You will not be charged if you are not picked; don't worry we will have plenty of other events that you may be invited to attend. Due to Covid, the event can be canceled per state law. Plans for this event can change if not enough people have registered we will cancel this retreat. The last day to register will be February 6, 2022, or whenever we reach up to our maximum amount of guests for this retreat.
Schedule
Join us Monday, February 28 – Wednesday, March 2nd, 2022 for a great opportunity to meet other Muslims while enjoying a relaxing vacation.
| | |
| --- | --- |
| Date: | February 28 – Wednesday, March 2nd, 2022 |
| Check in/Check Out: | 4:00 pm on Monday, February 28, 2022 –12:00 pm on Wednesday, March 2, 2022 |
| Location: | The Lodge at Woodloch 109 River Birch Ln, Hawley, PA 18428 |
| | |
| Price options: | $985 -$1,350 |
| Register: | Click Here |