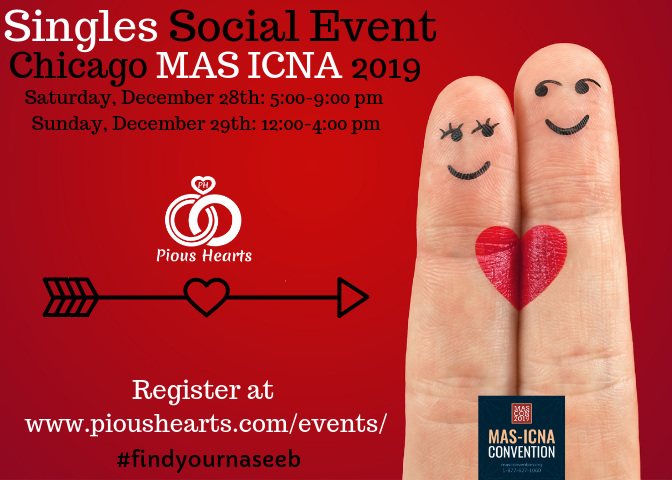 MAS ICNA & Pious Hearts Singles Social Event
Pious Hearts is pleased to partner with MAS ICNA as its exclusive Matrimonial service. We will hold two Singles Social Events, during the MAS ICNA Convention at McCormick Place. They will be held on both Saturday, December 28th and Sunday, December 29th. This will be a great opportunity to meet single Muslims in a comfortable, relaxed and organized atmosphere. If you enjoy being around like-minded individuals in a fun environment you can attend both events, that is of course if you are picked for both events.
Register Now
To attend our Singles Social Event, you must complete the registration form, by answering some questions about who you are and what you are looking for. Our team will review all registered singles and choose only the most suitable singles to attend the event. Only when our team picks you to be a guest at our event, will your credit/debit card on file automatically be charged. You will not be charged anything if you are not picked; don't worry we will have plenty of other events that you may be invited to attend. This pre-event filtering process is a benefit for our guests so we can have more compatible singles who share the same interest as you and to have a good balance of men and women at our event to give everyone a fair chance to interact and InshaAllah find a match.
**Please note that if you decide to register for both Saturday and Sunday events, you will be charged for both events if you are picked to attend. The selection and charges of our registrees can be done as early as November 1st. All charges are non-refundable.
Due to this being a MAS ICNA & Pious Hearts event, we will sell out well before the date of the event, so if you're serious about finding your other half, we strongly suggest you go for it and secure your seat ASAP!
Schedule
Join us Saturday, December 28, 2019, for an amazing evening with our hilarious comedian Adil Qaisar, interactive games, lovely dinner, ice-breakers and of course lots of mingling.
| | |
| --- | --- |
| Date: | Saturday, December 28, 2019 |
| Time: | 5:00 – 9:00pm |
| Location: | McCormick Place (Room number will be given on your invite) |
| | 2301 S King Dr, Chicago, IL 60616 |
| Ticket: | $100 |
| Register: | SOLD OUT |
Join us Sunday, December 29, 2019, for an amazing afternoon with our guest speaker Shaykh Yaser Birjas, interactive games, appetizers and refreshments, ice-breakers and of course lots of mingling.
| | |
| --- | --- |
| Date: | Sunday, December 29, 2019 |
| Time: | 12:00 – 4:00pm |
| Location: | McCormick Place (Room number will be given on your invite) |
| | 2301 S King Dr, Chicago, IL 60616 |
| Ticket: | $80 |
| Register: | SOLD OUT |